I used to love Corn Pops.
Let's be real.  I still love Corn Pops.  Perfectly sweet, great texture and artificially yellow.
According to Kellogs, they're "crispy, glazed, crunchy, sweet."
According to Kellogs, they're made of  "milled corn, sugar, soluble corn fiber, molasses, contains 2% or less of salt, soybean oil, partially hydrogenated vegetable oil (coconut, soybean and/or cottonseed), mono- and diglycerides, wheat starch, annatto color, BHT for freshness."
Ew.
There's gotta be a better way.
Whole Foods had the answer.  They always do.
Kamut is "the "Great-Great Grandfather of Grains". Derived from the ancient Egyptian word for "Wheat", this high-energy grain was discovered thousands of years ago. With kernels two to three times the size of its modern relative, Kamut delivers rich flavor and great nutrition for a valuable addition to any diet." And it's only $1.99 🙂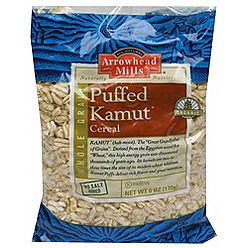 I've already said that I don't eat cereal very much anymore because it's usually highly processed and full of sugar, not to mention that it doesn't fill me up.  But I bought treated myself to my favorite soy milk, Silk Light, this weekend.  It tastes deelish with cereal, so when I saw Arrowhead Mills organic puffed kamut cereal at Whole Foods, I got really excited.  It reminded me of my cereal days.  Of my Corn Pops days.  And the best part is that it has a very similar texture, bringing back all of my lovely Corn Pops memories without all the sugar, trans fat and cancer-causing-shouldn't-be-approved-by-the-FDA-preservatives (BHT).
According to Arrowhead Mills, they're made of "organic puffed whole grain kamut."
Now that's more like it!  One serving has fifty calories, 3 grams of protein and 2 grams of fiber.  I had two and half servings, obviously.
I'm aware that I have healthified taste buds.  With that said, the delicious sweetness of the soy milk was enough sweetness for me. The puffs have  great nutty flavor and a crispy texture, but adding a bit of unrefined sugar would make these an awesome healthy stand up to Corn Pops.  I bet they would be great sprinkled with cinnamon and a chopped banana, too! Or on top of yogurt?
I sprinkled mine with a bit of Bear Naked Fit Vanilla Almond Crunch granola.  Goodbye puffs of fake sugary wannabe corn, hello healthified cereal.
With blueberries!
Hold on. While researching Corn Pops, I found some very interesting news.
You may be forced to eat my version of Corn Pops!  According to this article from Fox News, Corn Pops are #7 on Wall Street's list of brands that will soon disappear.  Who would have thought that Corn Pops would soon be shoved in a pile with MySpace, Sears and American Apparel? Not I.
"Kellogg's describes the product as being 'crispy, glazed, crunchy, sweet.' Corn Pops also contain mono- and diglycerides, used to bind saturated fat, and BHT for freshness, which is also used in embalming fluid. None of these are likely to be what mothers want to serve their children in an age in which a healthy breakfast is more likely to be egg whites and a bowl of fresh fruit."
Amen.
I'd love to meet the wise hummusapien that put Corn Pops on that list where it belongs.